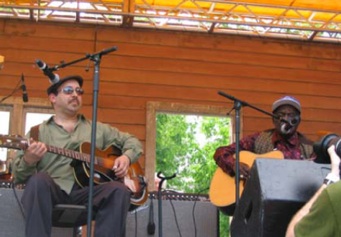 David 'Honeyboy' Edwards and Paul play the blues
A Blues Journey
There was never any doubt for journeyman bluesman Paul Kaye; from the time he was eight years old, that he would be a musician. "I can't remember a time that my mind wasn't on learning music," he recalls.

In his early teens Paul was mentored by Peter Pichow, the son of folk legend Jean Richie. This fortunate union opened up a world of traditional country blues music to the young man; players like Mississippi John Hurt, Blind Blake and the Reverend Gary Davis became his heroes and stylistic models. He was attracted by the complexity of playing and fullness of sound necessitated by the solo-guitarist format. The great country-blues artists made it sound—single handedly—like there were two or three guitars churning all at once. "With a band, individual player don't have as much responsibility," Paul says. "But solo players really have to work to get the big sound."
The Big Sound, indeed. Paul has been chasing and perfecting that Big Sound ever since.

"Chicago is where it's at for blues styles and sound—the venues, the musicians," Paul states. "If you want to be around the best players in the world, Chicago is where you need to be."

And Paul took advantage of the red-hot Chicago blues scene, plying his trade with the best players in town; legends like Buddy Guy, Dave Myers, Harmonica Hinds, Lefty Diz and even Detroit Jr. himself. These were and are the "old blues guys"; if you could play for these guys, it meant you made it.

Photo above - Paul, Buddy Guy, Detroit, Jr
. Eventually Paul got a weekly Monday night gig at the Checkerboard Lounge, the premier Chicago blues club, which put him on the bandstand regularly with the "founding fathers' of country blues. In addition to his meticulous attention to technique and feel, Paul listened closely to stories and anecdotes spun by men who'd known Muddy Waters back in the day, and had even run with Robert Johnson himself.

Paul toured, performed, and recorded with David "Honeyboy" Edwards on a regular basis for twenty years; Honeyboy was a direct link to Robert Johnson, with whom he performed and caroused. "Playing with Honeyboy was a life's ambition realized," says Paul, but it's become far more than that. "I kind of feel an obligation to not just the music, but to Honeyboy; to present stories about the old players, and just as importantly, how they played the tunes." Of Paul Kaye, the venerable bluesman David "Honeyboy" Edwards said simply: "Paul Kaye can play the Blues." And what better praise can any Blues player ask for than that.